Kaufland: Genialer 29.000 € Video Contest mit hohem Produktionsbudget & zwei Deadlines
09.08.2022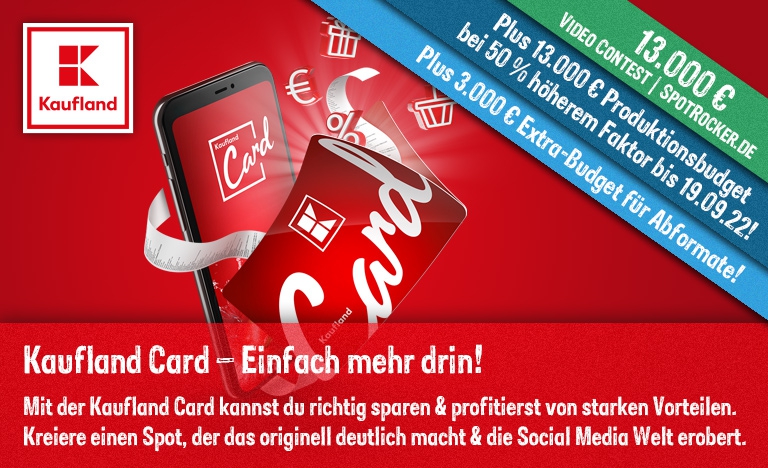 [Pressemitteilung zu Kaufland] Kaufland gehört in Deutschland zu den größten und beliebtesten Supermärkten für Lebensmittel und alles für den täglichen Bedarf. Kunden schätzen die enorme Vielfalt, die großen Frischeabteilungen, die hohe Qualität und die dauerhaft günstigen Preise – wesentliche Aspekte, die den Kunden ein positives Einkaufserlebnis bereiten und Kaufland dies mit einem relativ neuen Vorteilsprogramm, der "Kaufland Card", weiter ausbaut.
Mit der "Kaufland Card" profitieren Kunden von zahlreichen Einsparungen und Vorteilen, womit Kaufland die Nähe zu ihren Kunden stärkt und Treue belohnt. Passend dazu soll auch die Kommunikation des Vorteilsprogramms sein, das heißt, nah am Markt. Daher ruft Kaufland einen für jeden zugänglichen Video Contest auf, der gemeinsam mit dem hierfür renommierten Portal SPOTROCKER durchgeführt wird:
"Kaufland Card – Einfach mehr drin!" – unter diesem Motto kann jeder mit bis zu drei selbstproduzierten Werbespots gemäß Briefing teilnehmen. Gesucht werden originelle Spots, die das Vorteilsprogramm von Kaufland aufmerksamkeitsstark und unterhaltsam inszenieren und so die Social Media Welt erobern.
Der Video Contest bietet besondere Vorzüge, wodurch eine Vielzahl an Teilnehmern profitiert und jeder Creator ohne Bewerbungshürden mitmachen kann:
1. 13.000 € Awards: Die zehn besten Spots und zehn aktivsten Voter werden prämiert. Dabei kann man mit den eigenen Spots die Rocker Awards gewinnen und/oder einfach nur die Videos der anderen bewerten und damit die Voter Awards gewinnen.
2. Zusätzliches 13.000 € Produktionsbudget: Damit werden Spots sogar schon im Vorfeld belohnt – unabhängig von einer finalen Prämierung.
3. Erhöhtes Produktionsbudget bis 19.09.22: Für alle Spots, die bis zum 19.09.22 eingereicht werden, gilt ein 50 % höherer Produktionsbudget-Faktor, sprich 150. Danach gilt der Standard-Faktor 100.
4. 3.000 € Extra-Budget für Abformate: Bei zusätzlicher Einreichung einer Hochformat-Variante des eigenen Haupt-Spots wird ein weiteres 3.000 € starkes Extra-Produktionsbudget angesetzt.
Final können die Videos bis zum 17.10.22 eingereicht werden. Frühe Einreichungen lohnen sich jedoch sehr – ganz besonders auch aufgrund des erhöhten Produktionsbudget-Faktors bis zum 19.09.22. Denn so hat man höhere Chancen auf einen Anteil am sukzessiv schwindenden Produktionsbudget und es können auch mehr Statistiken für die eigenen Videos aufgebaut werden. Das sind wichtige Indikatoren, die Kaufland helfen, am Ende die Prämierungsentscheidungen zu treffen.
Alle Details, Briefing und Teilnahme direkt auf der Kampagnenseite: "Kaufland Card – Einfach mehr drin!"
Comments (0)
Questions? Remarks? Discuss and earn points! Log in to participate!