DesignYourPackaging.de: Inspirierender 18.000 € Video Contest
24.10.2018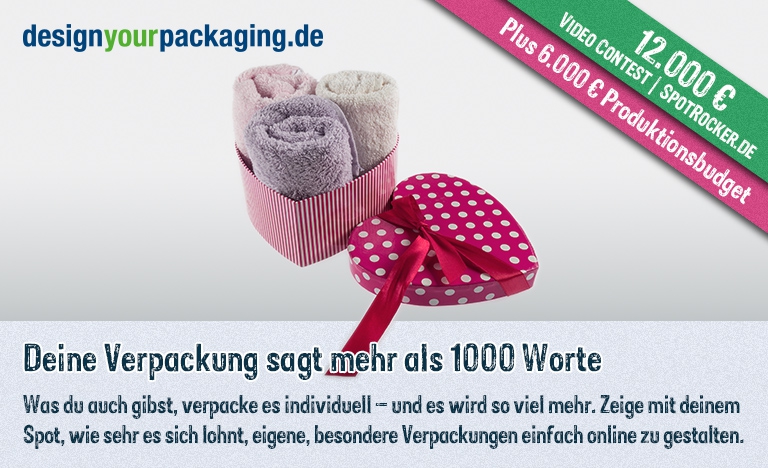 [Pressemitteilung zu DesignYourPackaging.de] – DesignYourPackaging.de ist eine Marke des Verpackungsdienstleisters colordruck Baiersbronn und bietet mit seinem hochfunktionalen Webshop ein umfassendes Repertoire an einfallsreichen, individualisier- und personalisierbaren Verpackungen aus Vollkarton, die bereits ab Stückzahl 1 ausgeliefert werden.
Ganz im Sinne seines Namens hat der innovative Online-Dienst nun eine große, kreative Mitmach-Kampagne gestartet:
"Deine Verpackung sagt mehr als 1000 Worte"
Individuelle bzw. persönliche Verpackungen können sehr viel bewirken und Botschaften vermitteln, die das innenliegende Produkt selbst nicht zu sagen vermag oder die mit Worten nicht in der Fülle zu sagen sind. Produkte, Geschenke, Danksagungen, Anerkennungen und Co. werden dadurch weitaus wertiger und wertschätzender angenommen und erreichen damit eine ganz andere, besondere Ebene der Wahrnehmung.
In diesem Sinne werden unterhaltsame, besonders emotionale und inspirierende Spots gesucht, die deutlich machen, wie sehr es sich lohnt, außergewöhnliche, individuelle Verpackungen zu nutzen und diese einfach mit DesignYourPackaging.de zu gestalten sind.
Dabei bringt dieser Video-Wettbewerb selbst gleich mehrere Besonderheiten mit sich, wodurch eine hohe Anzahl an Teilnehmern profitieren und jeder ohne Bewerbungshürden mitmachen kann. So kann man mit bis zu drei Spots teilnehmen und damit die Rocker Awards gewinnen und/oder einfach nur die Videos der anderen bewerten und damit die Voter Awards gewinnen:
Die sieben besten Spots und zehn aktivsten Voter werden mit insgesamt 12.000 € prämiert. Aber sogar schon vor der Prämierung werden Spots mit zusätzlich insgesamt 6.000 € Produktionsbudget belohnt, sodass insgesamt ganze 18.000 € ausgeschüttet werden. Zudem werden die für die Video-Idee benötigten Verpackungen kostenlos bereitgestellt, die man dabei selbst online aussuchen und gestalten kann.
Thomas Pfefferle, Geschäftsführer colordruck Baiersbronn: "SPOTROCKER repräsentiert für uns eine kultige, effiziente und hochkreative Kommunikations- und Werbeform, die das Potenzial birgt, die Begeisterung für originelle Verpackungslösungen neu zu entfachen. Wenn man sich auf der Plattform umschaut, wird schnell deutlich, was für ein hohes Level an Kreativität, Leidenschaft und Umsetzungsstärke vorherrscht. Wir sind fasziniert von der enormen Ideenvielfalt und der raffinierten sowie unterhaltsamen Machart der Spots. Mit welchen unterschiedlichen Ansätzen und Sichtweisen unsere Marke audiovisuell werbewirksam beflügelt wird, darauf sind wie besonders gespannt."
Die selbsterstellen Videos können bis zum 28.12.2018 eingereicht werden. Frühe Einreichungen lohnen sich, denn so hat man höhere Chancen auf einen Anteil am sukzessiv schwindenden Produktionsbudget und es können auch mehr Statistiken für die eigenen Videos aufgebaut werden – wichtige Indikatoren, die DesignYourPackaging.de helfen, am Ende die Prämierungsentscheidungen zu treffen.
Alle Details, Briefing und Teilnahme direkt hier auf der Kampagnenseite: "Deine Verpackung sagt mehr als 1000 Worte"
Comments (0)
Questions? Remarks? Discuss and earn points! Log in to participate!