Wolf of Wilderness: Packender 18.000 € Werbespot Contest
29.11.2018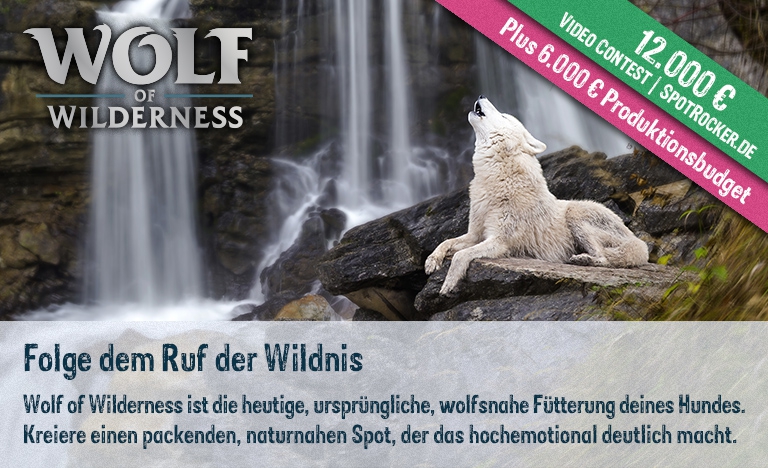 [Pressemitteilung zu Wolf of Wilderness] – Wolf of Wilderness ist die Premium-Hundefutter-Eigenmarke von zooplus und die artgerechte Fortsetzung der ursprünglichen, getreidefreien und fleischstarken Ernährung des Wolfes in der freien Wildnis für den heutigen Hund. So nah das Futter an der Natur des Hundes ist, so nah soll auch die Kommunikation der Marke am Hundebesitzer sein.
Daher ruft Wolf of Wilderness zu einem großen und für jeden zugänglichen Video- bzw. Werbespot-Wettbewerb auf, der gemeinsam mit dem hierfür renommierten Portal SPOTROCKER durchgeführt wird:
"Folge dem Ruf der Wildnis" – unter diesem Motto kann jeder gemäß Briefing, das in Deutsch und Englisch verfügbar ist, mit bis zu drei selbstproduzierten Werbespots teilnehmen.
Wenngleich Wolf of Wilderness die natürlichen Fressgewohnheiten des Wolfes in Bezug auf seine Zutaten und Rezeptur faktisch vollwertig artgerecht abbildet, so geht es vielmehr um eine besonders emotionale, wolfsnahe und unverwechselbare Inszenierung der Marke. Denn Wolf of Wilderness repräsentiert den Wolf in seiner vollen Würde und steht für die enge Verbindung zwischen dem faszinierenden, wilden Wolf und dem geliebten, domestizierten Hund.
Das heißt: Gesucht werden packende, naturnahe Spots, die auf hochemotionale Art und Weise deutlich machen, dass Wolf of Wilderness die ursprüngliche, schmackhafte, wolfsnahe Fütterung des Hundes von heute ist.
Dabei bietet der Video Contest gleich mehrere Vorzüge, wodurch eine Vielzahl an Teilnehmern profitiert und jeder ohne Bewerbungshürden mitmachen kann:
1. 12.000 € Awards: Die sieben besten Spots und zehn aktivsten Voter werden prämiert. Dabei kann man mit den eigenen Spots die Rocker Awards gewinnen und/oder einfach nur die Videos der anderen bewerten und damit die Voter Awards gewinnen.
2. Zusätzliches 6.000 € Produktionsbudget: Damit werden Spots sogar schon im Vorfeld belohnt – unabhängig von einer finalen Prämierung.
3. Kostenlose Produkte: Zu Videoproduktionszwecken werden Wolf of Wilderness Produkte kostenlos zur Verfügung gestellt, die man im Gesamtwert von rund 100 Euro selbst aus dem Shop aussuchen kann.
Dominik Mayer, Wolf of Wilderness: "Auch wenn man es vielen Hunderassen nicht ansieht, aber die DNA und der Verdauungstrakt des heutigen Hundes entspricht noch fast genau dem des Wolfes, wovon er eben abstammt. Daher glauben wir, dass auch heute die artgerechte Fütterung des Hundes der ursprünglichen Ernährung des Wolfes mit viel Frischfleisch und ohne Getreide entsprechen muss, damit unsere Hunde gesund und stark bleiben. Diese hohe Authentizität und Qualität unseres Futterkonzeptes wollen wir auch in der Kommunikation transportieren und freuen uns daher sehr, dass wir dies mit SPOTROCKER und ihrer außergewöhnlich starken, kreativen Community umsetzen können. Wir sind sehr gespannt, wie Filmemacher und Hundebesitzer weltweit die Einzigartigkeit von Wolf of Wilderness emotional in Szene setzen und die Marke authentisch in eindrucksvollen Spots präsentieren."
Die selbstproduzierten Videos können bis zum 15.03.2019 eingereicht werden. Frühe Einreichungen lohnen sich, denn so hat man höhere Chancen auf einen Anteil am sukzessiv schwindenden Produktionsbudget und es können auch mehr Statistiken für die eigenen Videos aufgebaut werden – wichtige Indikatoren, die Wolf of Wilderness helfen, am Ende die Prämierungsentscheidungen zu treffen.
Alle Details, Briefing und Teilnahme direkt hier auf der Kampagnenseite: "Folge dem Ruf der Wildnis"
Comments (0)
Questions? Remarks? Discuss and earn points! Log in to participate!