Wera: Two novel contests at once – Cinemagraph / Photo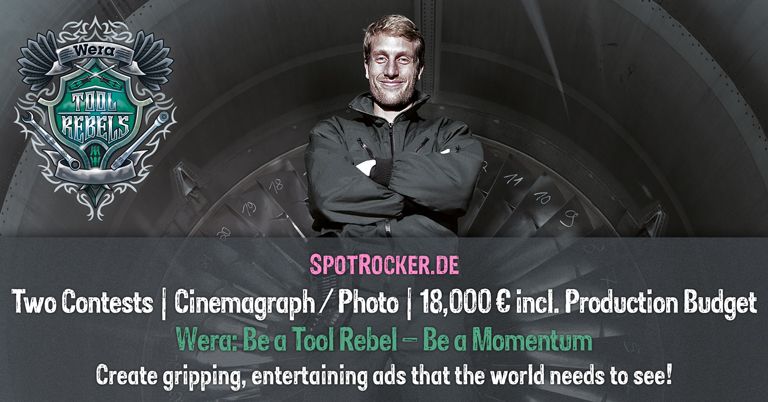 BOOYAH! Here we go! The first novel campaigns are here:
CINEMAGRAPH / MEME and PHOTO / MEME – and all this with the absolute LOVE BRAND WERA!
We don't need to tell you any more how awesome Wera is – Wera has already twice carried out super successful SPOTROCKER commercial contests here! And now we are climbing the next awesome level – together with you, of course!
Two new campaigns will be launched, which differ practically only in the final advertising medium (ad):
The CINEMAGRAPH / MEME campaign with 7,300 € awards + 4,000 € production budget:
Be a Tool Rebel – Be a Momentum in Motion
The PHOTO / MEME campaign with 3,700 € awards + 3,000 € production budget:
Be a Tool Rebel – Be a Momentum in Still
Practically, the two campaigns do not differ contentwise – but it is quite possible that your idea or the implementation of it fits better to one or the other form of media and accordingly takes more effect.
Of course, you can also participate in both campaigns – each with up to three ads – but your ads must differ significantly enough.
What CINEMAGRAPH / PHOTO / MEME mean and how this is to be understood in these campaigns can be found in the respective briefs.
So go through the briefs now – utilize these ingenious contests – and make sure to rock! It's worthwhile enormously!
UPDATE 02.06.2021:
Wow! The first Cinemagraph / Photo / Meme campaigns ever – and you have rocked them hard! Awesome! :)
All released ads are now online!
That means: Vote, share and comment the ads now! Support your favorites constructively, help Wera to make their decisions and in doing so benefit from the Voter Awards yourself! :) Be active – it literally pays off!