Denken wir weiter - nachhaltiges Banking.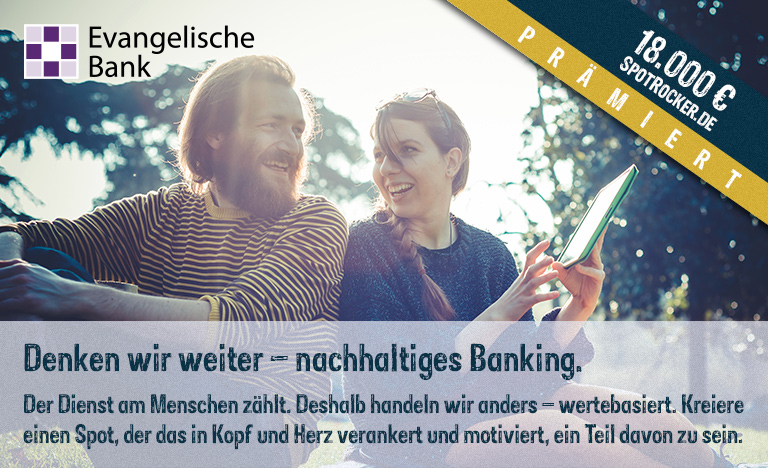 Awards
You can win that! Join in!
Production budget
Factor of brand voting:
100
Currently still available:
3.755 €
Now: Upload and vote until 24.07.2018
spotCount = 3
spot_views_per =
spot_votes_per =
spot_award_per =
Uns verbinden Werte
Die Evangelische Bank ist die beispiellose nachhaltige, wertebasierte Zukunftsbank für Kirche, Diakonie, Gesundheitswirtschaft, Sozialwirtschaft und für alle privaten Personen, die sich mit der Denk- und Handlungsweise der Bank identifizieren. Wir sind christlich begründet, nachhaltig handelnd und ein in die Zukunft ausgerichteter, ganzheitlicher Finanzpartner, der anders handelt, da bei uns der Dienst am Menschen im Vordergrund steht. Wir sind genossenschaftlich organisiert und betreuen bundesweit mit rund 500 Mitarbeitern etwa 19.000 institutionelle Kunden und ca. 72.000 private Kunden.