UND ACTION! Die neue Super-Kampagne ist da: Ferrero ValParaíso
28.08.2017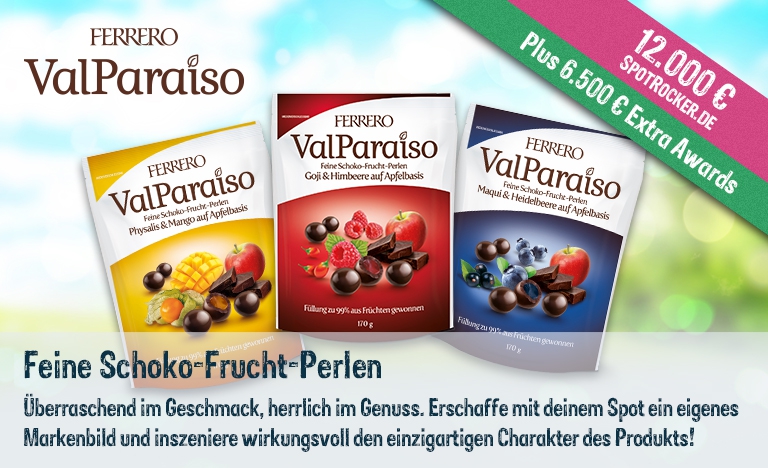 Das ist die erste PRIVATE Kampagne auf SPOTROCKER und die hat es wahrlich in sich – kurz gesagt:
Hier bist du Markenmacher und Produzent zugleich! Die 6 besten Spots werden mit insgesamt 12.000 € prämiert! Aber sogar schon vor der Prämierung werden die Spots mit zusätzlich insgesamt 6.000 € belohnt (Produktionsbudget)!
Zudem gibt's bis zum 11.09.17 einen Ideen-Contest, bei dem die 5 besten Ideen mit jeweils 100 € extra prämiert werden! Und: Ein ValParaíso Produkt-Set für deinen Spot gibt's obendrauf! Aber: Was bei all dem zählt, ist deine Schnelligkeit!
Deshalb: Mach jetzt direkt mit und kreiere Großartiges! Alles Weitere hierzu findest du im Briefing sowie insbesondere unter https://www.spotrocker.de/user-so-gehts Lies dir das auf jeden Fall durch, es lohnt sich!
Und jetzt: Go, Go, Go!

Euer SPOTROCKER TEAM
Comments (3)
Questions? Remarks? Discuss and earn points! Log in to participate!