Merry, blessed Christmas and a happy New Year!
22.12.2017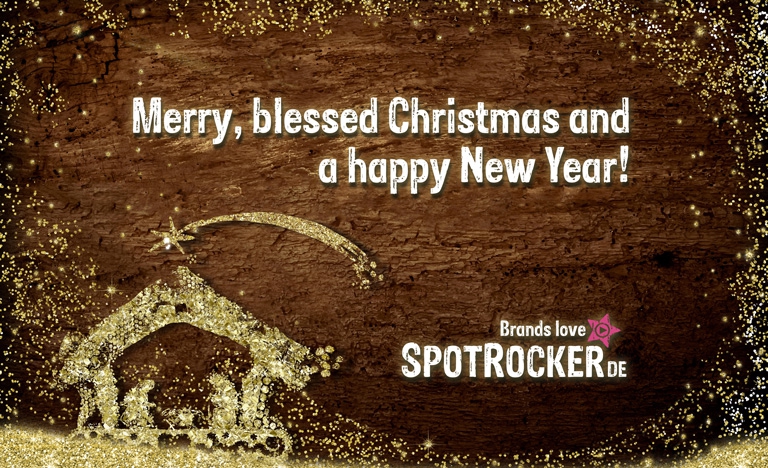 Kennt ihr die drei magischen Worte, mit denen man ganz viel Liebe ausdrücken kann? Genau: HAMMER HAMMER HAMMER – wie ihr rockt!

Die Brands und wir sind zutiefst beeindruckt von euch! Wir sind so dankbar, dass wir mit euch so etwas Geniales geschaffen haben und zusammen so eine geniale Community sind!
Bis heute konnten wir viele spannende Kampagnen auf den Weg bringen – mit einer Gesamtausschüttung von weit über 100.000 Euro in barer Münze plus zahlreiche Benefits wie kostenfreie Produkte, beachtliche Bonus-Prämien, wertvolle Referenzen, gewinnbringende Feedbacks, direkte Kontakte zu Brands und Co.! In den einzelnen Blog-Artikeln zu den jeweiligen Kampagnen könnt ihr selbst nachlesen, was Brands und User dazu sagen…

In diesem Sinne bedanken wir uns von Herzen für ein geniales Jahr 2017 und freuen uns riesig auf ein neues, starkes SPOTROCKER Jahr 2018! Gemeinsam mit euch, gemeinsam mit tollen Brands, gemeinsam mit viel Liebe!
Apropos – wisst ihr mit welchen drei Wörtern man am besten ganz viel Liebe ausdrückt? Genau: Jesus is born!

In diesem Sinne wünschen wir euch frohe, gesegnete Weihnachten, viele Faltschachteln zum Auspacken

und einen guten Rutsch ins neue Jahr!
Alles Liebe
Euer SPOTROCKER TEAM
Comments (0)
Questions? Remarks? Discuss and earn points! Log in to participate!