Evangelische Bank startet genialen 18.000 € Werbespot-Contest
05.04.2018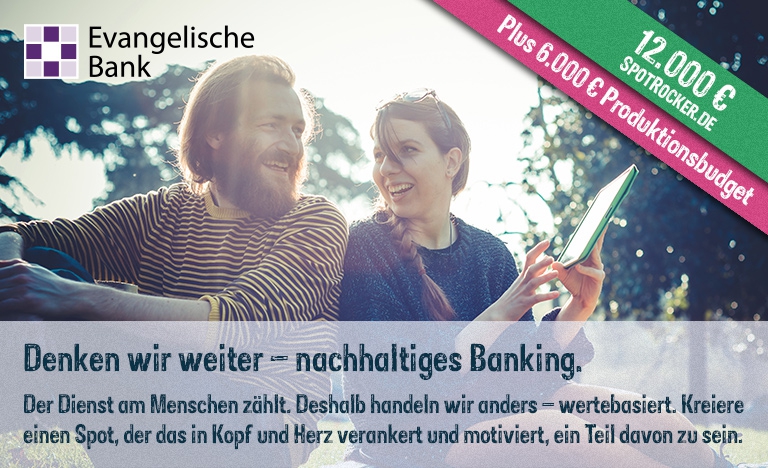 [Pressemitteilung der Evangelischen Bank] – Die Evangelische Bank geht neue Wege im Marketing und hat eine besondere Kreativ-Kampagne gestartet: Die Bank hat einen für jeden zugänglichen Video- bzw. Werbespot-Contest ausgerufen, der gemeinsam mit dem spezialisierten Portal für Werbespot-Crowdsourcing SPOTROCKER durchgeführt wird.
Interessierte können hier zum Motto "Denken wir weiter – nachhaltiges Banking" einen selbstproduzierten Werbespot einreichen.
Es geht um die Evangelische Bank, die nachhaltig und wertebasiert im Umfeld von Kirche, Diakonie sowie der Gesundheits- und Sozialwirtschaft agiert. Die Bank unterstützt ihre Kunden bei der Erfüllung ihres Auftrags – dem Dienst am Menschen.
Vor diesem Hintergrund werden authentische, kurzweilige und gerne auch überraschende Spots gesucht, die eben dieses einzigartige Wesen der Evangelischen Bank einprägsam und bevorzugt nah am Menschen verdeutlichen – und die Zielgruppen kognitiv und emotional einnehmen. Dabei geht es ausschließlich um den Privatkundenbereich.
Der Clou: Dieser Video-Wettbewerb bringt gleich mehrere Besonderheiten mit sich, wodurch eine hohe Anzahl an Teilnehmern profitieren und jeder ohne Bewerbungshürden mitmachen kann. So kann man mit bis zu drei Spots teilnehmen und damit die Rocker Awards gewinnen und/oder einfach nur die Videos der anderen bewerten und damit die Voter Awards gewinnen. Dabei werden 12.000 € für die sieben besten Spots und zehn aktivsten Voter ausgelobt. Aber sogar schon vor der Prämierung werden Spots mit zusätzlich insgesamt 6.000 € Produktionsbudget belohnt, sodass insgesamt ganze 18.000 € ausgeschüttet werden.
"Die Nähe zu unseren Kunden ist uns seit jeher wichtig. Das unterstreicht unsere aktuelle Mitmach-Kampagne in Kooperation mit SPOTROCKER", erläutert René Linek, Marketingleiter der Evangelischen Bank. "Wir rufen dazu auf, die Evangelische Bank als Nachhaltigkeitsbank mit einem ausgeprägten sozial-ethischen Engagement besser kennenzulernen und daraus einen Spot zu entwickeln, der Menschen begeistert. Wir freuen uns auf vielfältige, kreative Ideen", so Linek weiter.
Alle Informationen erhalten Interessierte unter www.eb.de/spotrocker (Anm. von SPOTROCKER: Anschauen lohnt sich!) oder direkt hier auf der Kampagnenseite.
Die selbsterstellen Videos können bis zum 24.07.2018 eingereicht werden. Frühe Einreichungen lohnen sich, denn so hat man nicht nur höhere Chancen auf einen Anteil am sukzessiv schwindenden Produktionsbudget, sondern es können auch mehr Statistiken für die eigenen Videos generiert werden – wichtige Indikatoren, die der Evangelischen Bank helfen, am Ende die Prämierungsentscheidungen zu treffen.
Comments (0)
Questions? Remarks? Discuss and earn points! Log in to participate!