BOOYA! Was für eine erste Runde von SPOTROCKER!
22.12.2015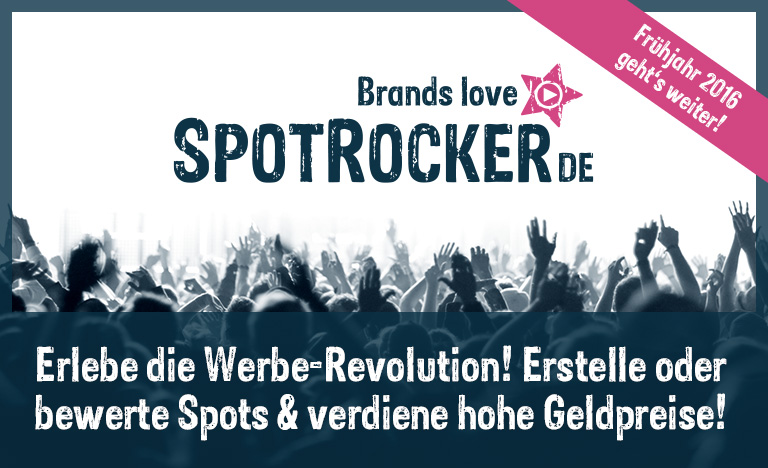 BOOYA! Was für eine erste Runde von SPOTROCKER!

Wir sind so froh und dankbar für euer großes Engagement, eure ansteckende Leidenschaft, euer wertvolles Feedback, euren starken Zuspruch und natürlich für all eure genialen Spots! Gemeinsam haben wir die Werbe-Revolution begonnen und ihr habt eindrücklich gezeigt, wie heftig ihr 2016 rocken werdet!
Seht selbst, was die SPOTROCKER Crowd geleistet hat und die Brands und siegreichen Rocker zu sagen haben:
Protero: "Clean Pancakes For Everybody"
Medical One: "Fühl dich wohl – es steht dir zu!"
MFG: "Kreativstandort Baden-Württemberg"
iLive: "Live smooth, stylish and smart"
SPOTROCKER: "Mach mit und erlebe die Werbe-Revolution!"
Krass, oder?!

Ein Riesen-Dankeschön von uns und den Brands! Und ein lautes Attacke für das kommende SPOTROCKER-Jahr!

Damit stellt sich derzeit eine Frage: Wie geht es weiter? Wie gesagt, haben wir sehr viel Feedback von euch erhalten und verschiedene Learnings daraus gezogen. Es gab und gibt einiges zu denken, zu konzeptionieren und umzusetzen – und genau in diesem Prozess befinden wir uns. Mit der nächsten Runde wollen wir euch und den Brands ein noch attraktiveres System bieten, das die Wünsche, Bedenken und Erwartungen aller Beteiligten noch besser abbildet. Sollten wir all das planmäßig umsetzen können, werden wir schon mit dem nächsten Meilenstein die nächste große Welle in Bewegung setzen. Kurzum: Es wird spannend und im Frühjahr 2016 fällt der nächste Startschuss!

Und ja, bis dahin lohnt es sich, weiterhin aktiv zu sein und Punkte einzusammeln.
Nun bleibt uns nur noch zu sagen: Habt frohe, gesegnete Weihnachten und einen guten Rutsch ins neue Jahr!
Lasst es krachen!

Euer SPOTROCKER TEAM
Comments (16)
Questions? Remarks? Discuss and earn points! Log in to participate!