AMIGO: Unterhaltsamer 18.000 € Video Contest
04.06.2022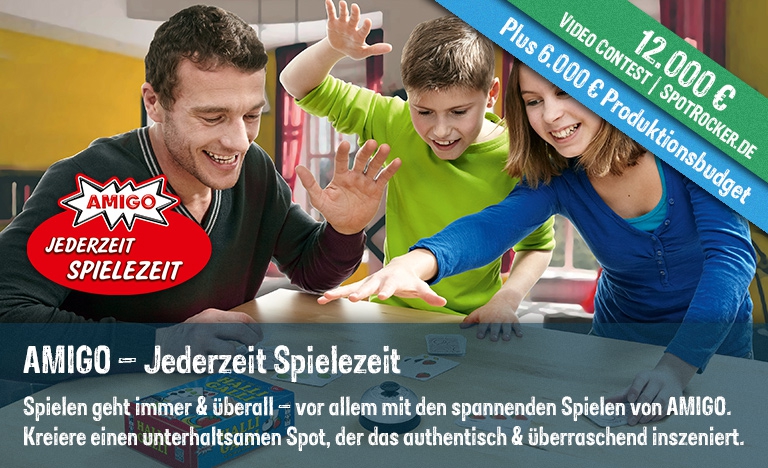 [Pressemitteilung zu AMIGO] AMIGO ist einer der führenden Spieleverlage in Deutschland, der seit über 40 Jahren hochwertige Gesellschaftsspiele (Karten-/Brettspiele) für Familien und junge Erwachsene getreu der Philosophie "Einfach gute Spiele!" entwickelt, produziert und vertreibt. Das bedeutet: Wertige, langlebige sowie spannende, raffinierte und unterhaltsame Spiele, die Gleichaltrige sowie Groß und Klein mit viel Freude und ausgewogenem Anspruch zusammenbringen.
Anders gesagt: Bei AMIGO geht es um "Spiele für alle und für jede Gelegenheit." Um diesen Anspruch auch audiovisuell in die Welt hinauszutragen, ruft AMIGO einen für jeden zugänglichen Video Contest auf, der gemeinsam mit dem hierfür renommierten Portal SPOTROCKER durchgeführt wird:
"AMIGO – Jederzeit Spielezeit" – unter diesem Motto kann jeder mit bis zu drei selbstproduzierten Werbespots gemäß Briefing teilnehmen. Gesucht werden unterhaltsame Spots, die authentisch und überraschend deutlich machen, dass Spielen immer und überall geht – vor allem mit den spannenden Spielen von AMIGO.
Der Video Contest bietet wesentliche Vorzüge, wodurch eine Vielzahl an Teilnehmern profitiert und jeder Creator ohne Bewerbungshürden mitmachen kann:
1. 12.000 € Awards: Die zehn besten Spots und zehn aktivsten Voter werden prämiert. Dabei kann man mit den eigenen Spots die Rocker Awards gewinnen und/oder einfach nur die Videos der anderen bewerten und damit die Voter Awards gewinnen.
2. Zusätzliches 6.000 € Produktionsbudget: Damit werden Spots sogar schon im Vorfeld belohnt – unabhängig von einer finalen Prämierung.
3. Kostenlose Produkte: Zu Produktionszwecken wird eine gewisse Menge an AMIGO Spiele-Sets kostenlos zur Verfügung gestellt, die man sogar schon nur bei der Veröffentlichung eines seiner Spots behalten darf.
Die Videos können bis zum 12.09.2022 eingereicht werden. Frühe Einreichungen lohnen sich, denn so hat man höhere Chancen auf einen Anteil am sukzessiv schwindenden Produktionsbudget und es können auch mehr Statistiken für die eigenen Videos aufgebaut werden. Das sind wichtige Indikatoren, die AMIGO helfen, am Ende die Prämierungsentscheidungen zu treffen.
Alle Details, Briefing und Teilnahme direkt auf der Kampagnenseite: "AMIGO – Jederzeit Spielezeit"
Comments (0)
Questions? Remarks? Discuss and earn points! Log in to participate!